Tudor es un juego de mesa de 2 a 4 participantes, con competiciones de 90 a 120 minutos. Recomendado para mayores de 12 años, es el primer juego de Jan Kirschner.
Sus ilustraciones son obra de Dennis Lohausen, quien ya ha trabajado en Camel Up, Carcassonne: Mares del Sur, La Era del Carbón, Dominion, El Banquete de Odín, Luxor, Gaia Project, El Portal de Molthar, Merlin, Terra Mystica, Los Viajes de Marco Polo y Rajas of the Ganges, entre otros.
El jueves 24 de Mayo empezaremos una campaña en Verkami para unirnos a la primera edición de este "eurogame para jugadores experimentados" que nos cautivó desde la primera partida. Paralelamente se hará una campaña de Kisckstarter por Academy Games y una en Spielschmide por su editorial original, Corax Games. Los objetivos extra serán comunes en todas las campañas, sumaremos el total de recaudaciones para poder ofrecer la mejor calidad posible.
El PVP recomenddo del juego es de 55€ y podréis encontrarlo en campaña por 50€ con los gatos de envío incluidos (un poco más barato si aprovecháis el primer día). También hemos preparado unas recompensas especiales para las tiendas que nos apoyen.
Tudor es un juego de colocación de trabajadores que nos translada al siglo XVI, a la corte de Enrique VIII, donde tendremos que hacer que nuestra familia controle altos cargos para ganar influencia. Es un juego donde la anticipación en la toma de decisiones será vital.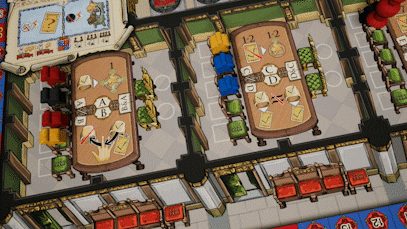 Una de las novedades más representativas del juego es la pantalla del jugador en forma de mano, al empezar la partida tendremos que elegir que anillos nos ponemos y en que dedos. La colocación de nuestros anillos nos dirá que acciones especiales podemos hacer. Además, durante la partida, podremos conseguir o perder más anillos, dependiendo de la habilidad de nuetros cortesanos para mantener sus cargos en la sala del trono.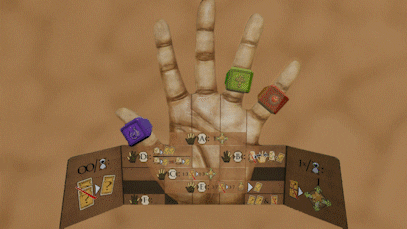 Cada partida de Tudor es diferente, Al principio de cada partida se eligen 3 cartas al azar para determinar la puntuación y las reglas especificas.